Expansion of the range
The certain something for your burger: SENNA Burger Sauce, SENNA Senf Mayo and SENNA Curry Ketchup.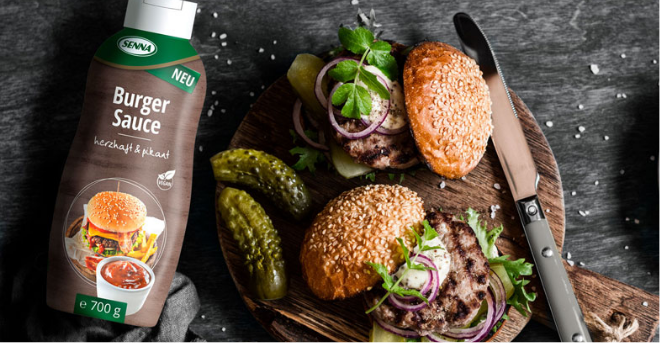 Three new creations have been enriching the SENNA Sauces range since April 2017: SENNA Burger Sauce, SENNA Mustard Mayo and SENNA Curry Ketchup. "Burger meals are totally "in" at the moment; however, they have nothing in common with the fast-food burgers that used to be standard.

Burgers have now become slow food whereby regional ingredients, artisan attention, creativity and skills are in demand. We set ourselves the objective of developing sauces which enable our customers to satisfy the increasingly higher demands on taste and quality in the form of our products," confides SENNA Innovation Manager Anja Troschl. The results of the development work are characterised mainly by new aromas.
The SENNA Burger Sauce delights the palate with its fresh tomato touch, selected spices and fine pieces of gherkin. Thanks to its vegan ingredients it is suitable for use with not only the classic burger but also with the veggie burger. The SENNA Mustard Mayo is a duet of mayonnaise and English mustard. The mayonnaise makes for a particularly creamy sauce, and the mustard peps it up with an exquisite tanginess. The SENNA Curry Ketchup combines fruity tomatoes with an aromatic mixed curry spices. It is perfect for livening up grilled and fried food or as a spicy dip.

SENNA burger recipe tip:
Ingredients for 4 portions:
1 handful of soya bean sprouts    
4 beef steaks à approx. 150g each
2 tablespoons of SENNA Bratcreme
2 dollops of SENNA Burger Sauce
How to prepare:  
Wash the cucumber and tomato and slice thinly, wash and dry the rocket and soya bean sprouts.
Season the steaks with salt and pepper. In a frying pan with SENNA frying crème, sear the steaks for 1-2 minutes and keep on frying on a low heat for a few more minutes until medium.
Cut the burger buns in half and smear SENNA Burger Sauce on each half. Top with slices of cucumber and tomato, steak, rocket and bean sprouts. Pop the top of the bun on to and affix using a wooden skewer.
Tip: crunchy chips served with SENNA Mustard Mayo dip is an excellent side.