The healthy universal talent in the kitchen. Whether you use them for baking or cooking – achieve the perfect result every time with our margarines.
Margarine
Finding THE one isn't that easy. Different applications and processing conditions demand different characteristics of the margarine used. For this reason, the SENNA range of products comprises a wide selection of margarines in order to guarantee perfect results according to the application.

Did you know…? Margarine is healthy and sustainable every day

Margarine is more environmentally friendly than animal fat, such as butter. Why? Margarine needs about half as much land as needed for the production of butter products, and the CO2 footprint is less than one-third of the footprint of butter.
The use of margarines as a spread and cooking fat is a simple way of ensuring a healthy, balanced diet and of improving the quality of the fats in your diet. Since margarine is made from vegetable oils, it contains polyunsaturated and monounsaturated fats, the so-called "good" fats, and is an excellent supplier of vitamins E, D and A.
REFINE YOUR SEARCH
Fats and oils
Sauces
Side Dishes
Cucina Italiana
Dressings
Convenience products sweet
Margarine
Classics
Delikatess
Melange
ZERO Palm
Linea Verde
Linie N
Milla
SENNA Viennese
Portion packs
Butter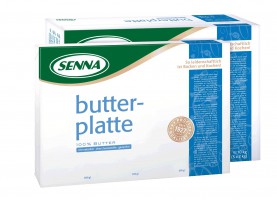 SENNA Butterplatte
• Smooth consistency
• No additives
• Temperature stability thanks to fractionation
• 100% natural
Art.Nr.: 1413254 | 10kg (5 x 2kg)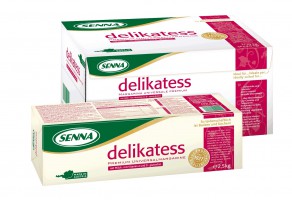 SENNA Delikatess
• No spitting when frying in the frying pan
• Good overrun
• Good liquid absorption
• With vitamins A and D
Art.Nr.: 1214201 | 10kg (4 x 2,5kg)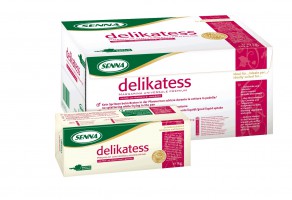 SENNA Delikatess
• No spitting when frying in the frying pan
• Good overrun
• Good liquid absorption
• With vitamins A and D
Art.Nr.: 1214106 | 10kg (10 x 1kg)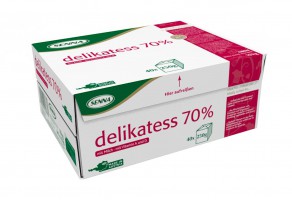 SENNA Delikatess
• In the practical small pack

• Immediate, fast processing properties
• Good overrun
• For tossing vegetables and pastas
• With vitamins A and D
Art.Nr.: 1314240 | 10kg (40 x 250g)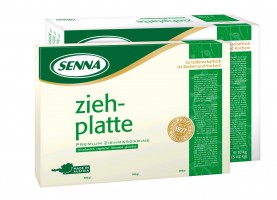 SENNA Ziehplatte
• Firmness: hard
• Excellent kneadability
• Very good machinability
• Butter aroma withstands the baking process
• Ideal for puff pastry
• Vegan
Art.Nr.: 1213205 | 10kg (5 x 2kg)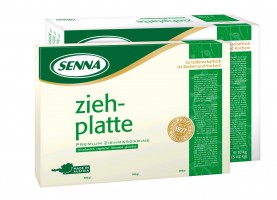 SENNA Ziehplatte RSPO SG
• With certified sustainable palm oil
• Firmness: hard
• Excellent kneadability
• Very good machinability
• Butter aroma withstands the baking process
• Ideal for puff pastry
• Vegan
Art.Nr.: 1213225 | 10kg (5 x 2kg)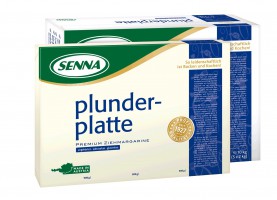 SENNA Plunderplatte
• Firmness: medium
• Optimum fermentation stability
• Excellent kneadability
• Very good machinability
• Fast, straightforward processing
Art.Nr.: 1213208 | 10kg (5 x 2kg)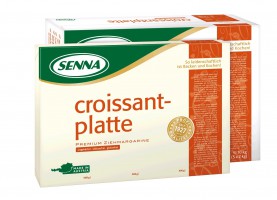 SENNA Croissantplatte
• Firmness: soft
• Optimum fermentation stability
• Butter aroma withstands the baking process
• With a delicate hint of vanilla
• Ideal for croissants
Art.Nr.: 1213219 | 10kg (5 x 2kg)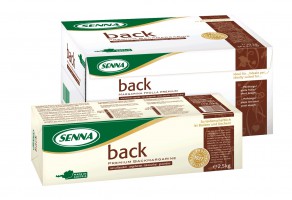 SENNA Back
• Best binding properties for short-crust pastry
• Aroma withstands the baking process
• Ideal for short-cut pastry and yeast dough
• Vegan
Art.Nr.: 1212201 | 10kg (4 x 2,5kg)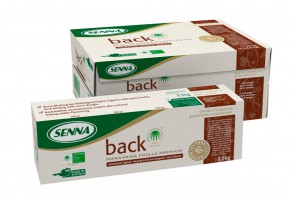 SENNA Back RSPO SG
• With certified sustainable palm oil
• Best binding properties for short-crust pastry
• Aroma withstands the baking process
• Ideal for short-cut pastry and yeast dough
• Vegan
Art.Nr.: 1212211 | 10kg (4 x 2,5kg)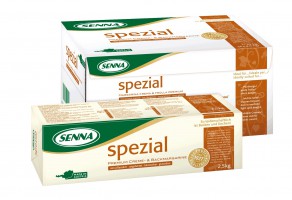 SENNA Spezial
• Can be processed in a wide temperature range
• Good overrun
• Good liquid absorption
• For short-crust pastry, Madeira cakes and cremes
• Vegan
Art.Nr.: 1212208 | 10kg (4 x 2,5kg)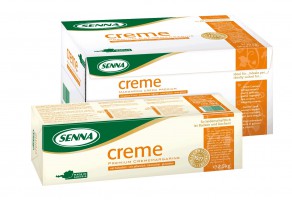 SENNA Creme
• Premium creme margarine with 60% coconut fat
• Perfect overrun
• Optimum liquid absorption
• Also ideal for ice creams
• Vegan
Art.Nr.: 1211201 | 10kg (4 x 2,5kg)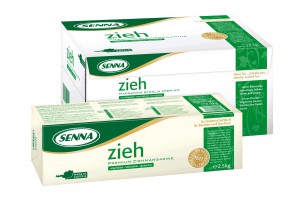 SENNA Zieh
• Ideal smoothness
• Very good machinability
• Optimum fermentation stability
Art.Nr.: 1213201 | 10kg (4 x 2,5kg)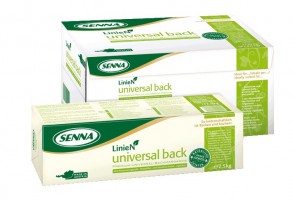 SENNA Linie N Universal back
• Good overrun
• Only natural ingredients
• Free from preservatives, colourants and aroma
• Vegan
Art.Nr.: 1213480 | 10kg (4 x 2,5kg)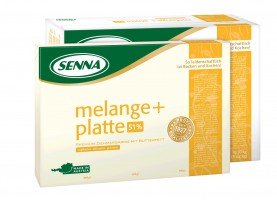 SENNA Melange + Platte 51%
• 51% butterfat
• Firmness: soft
• Combines the processing advantages of margarine with the delicious taste of butter
Art.Nr.: 1413215 | 10kg (5 x 2kg)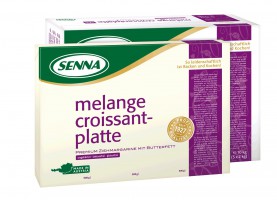 SENNA Melange Croissantplatte 12%
• 12% butterfat
• Firmness: medium
• Exquisite butter taste in the end product
• Very good machinability
Art.Nr.: 1413211 | 10kg (5 x 2kg)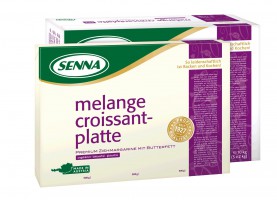 SENNA Melange Croissantplatte 25%
• 25% butterfat
• Firmness: medium
• Very good machinability
Art.Nr.: 1413212 | 10kg (5 x 2kg)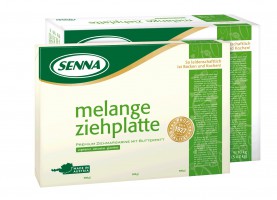 SENNA Melange Ziehplatte 12%
• 12% butterfat
• Firmness: hard
• Fine butter taste
• Very good machinability
• Fast, straightforward processing
Art.Nr.: 1413210 | 10kg (5 x 2kg)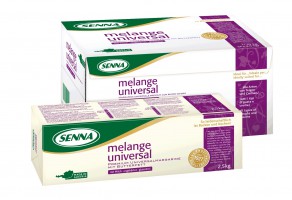 SENNA Melange universal
• 10% butterfat
• Good overrun
• For short-crust pastry and cremes
Art.Nr.: 1214220 | 10kg (4 x 2,5kg)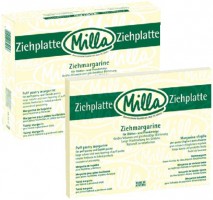 Milla Ziehplatte
• High volume and even flakiness
• Very good machinability
• Efficient processing properties
• Vegan
Art.Nr.: 1213405 | 10kg (5 x 2kg)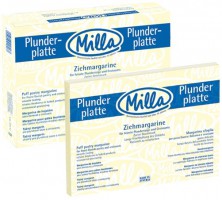 Milla Plunderplatte
• Firmness: medium
• Optimum fermentation stability
• Excellent kneadability
• Very good machinability
• Fast, straightforward processing
• Vegan
Art.Nr.: 1213408 | 10kg (5 x 2kg)
Milla Melange Croissantplatte
• Fine butter taste
• Ideal for croissants
• Good kneadability
• Good volume
Art.Nr.: 1413411 | 10kg (5 x 2kg)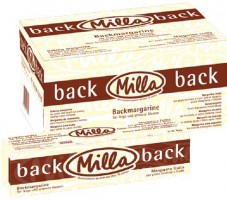 Milla Back
• Aroma withstands the baking process
• Good smoothness and machinability
• Good binding properties for short-crust pastry
• Vegan
Art.Nr.: 1212301 | 10kg (4 x 2,5kg)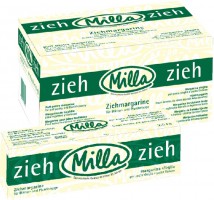 Milla Zieh
• High volume and even flakiness
• No kneading with flour needed
• Smooth consistency
• Vegan
Art.Nr.: 1213301 | 10kg (4 x 2,5kg)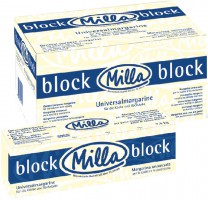 Milla Block
• For cooking, braising and baking
• Vegan
Art.Nr.: 1214401 | 10kg (4 x 2,5kg)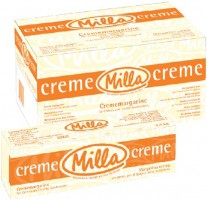 Milla Creme
• High volume
• Delicate glaze
• Vegan
Art.Nr.: 1211301 | 10kg (4 x 2,5kg)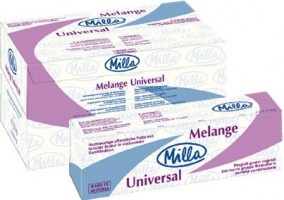 Milla Melange universal
• Universally useable
• Fine butter taste
Art.Nr.: 1214422 | 10kg (4 x 2,5kg)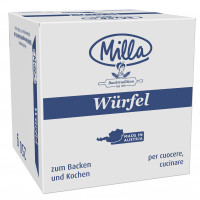 Milla Würfel Universalmargarine
• 70% fat content
• General-purpose margarine
• In the practical small pack

Art.Nr.: 1214420 | 10kg (40 x 250g)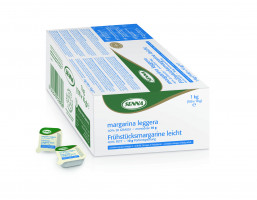 SENNA Frühstücksmargarine leicht
• With 40% fat
• Contains omega-3 fatty acids
• Contains unsaturated fatty acids
• With vitamins A, D and E
• Vegan
Art.Nr.: 1214217 | 1kg (100x10g)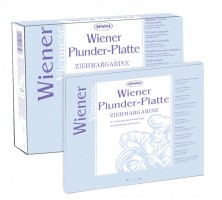 SENNA Wiener Plunderplatte
• Good stability
• Good kneadability
• Vegan
Art.Nr.: 1413408 | 10kg (5 x 2kg)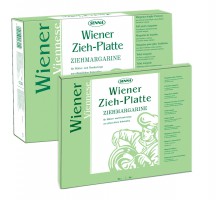 SENNA Wiener Ziehplatte
• Ideal for puff pastry and all laminated doughs
• Smooth consistency
• No kneading with flour needed
• Vegan
Art.Nr.: 1413405 | 10kg (5 x 2kg)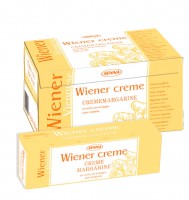 SENNA Wiener Creme
• For exquisite creams and fluffy Madeira cake mixtures
• Good liquid absorption
• Best stability and cutting firmness
• Vegan
Art.Nr.: 1411401 | 10kg (4 x 2,5kg)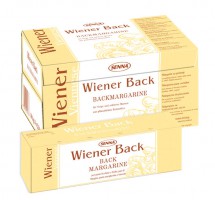 SENNA Wiener Back
• Ideal for short-crust pastries and yeast doughs
• Excellent degree of smoothness
• Butter aroma withstands the baking process
• Vegan
Art.Nr.: 1412401 | 10kg (4 x 2,5kg)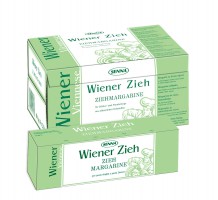 SENNA Wiener Zieh
• Ideal for puff and Danish pastrie
• Good kneadability
• Smooth consistency
• Vegan
Art.Nr.: 1413402 | 10kg (4 x 2,5kg)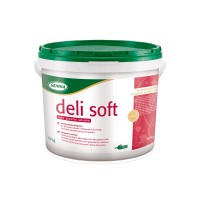 SENNA Deli Soft
• Premium universal margarine
• Very creamy consistency
• Easy processing
• Good batting volume
• General-purpose margarine
Art.Nr.: 1214203 | 10kg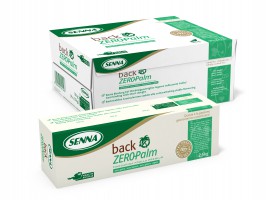 SENNA Back ZERO Palm
• 100% palm oil free
• Best binding properties for short-crust pastry
• Aroma withstands the baking process
• Vegan
Art.Nr.: 1212221 | 10kg (4 x 2,5kg)
SENNA Creme Zero Palm
• Perfect overrun
• Optimum liquid absorption
• Perfect whipping ability
• Vegan
Art.Nr.: 1211221 | 10kg (4x2,5kg)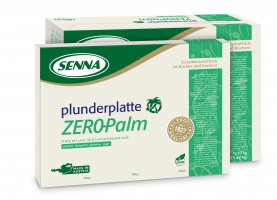 SENNA Plunderplatte ZERO Palm
• Optimum fermentation stability

• Excellent kneadability

• Very good machinability

• Fast, straightforward processing

• Vegan
Art.Nr.: 1213232 | 10kg (5x2kg)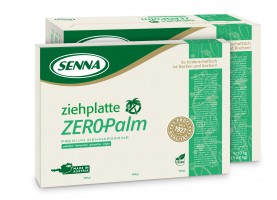 SENNA Ziehplatte ZERO Palm
• Excellent kneadability

• Very good machinability

• Fast, straightforward processing

• Vegan
Art.Nr.: 1213231 | 10kg (5x2kg)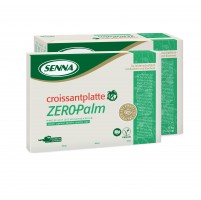 SENNA Croissantplatte ZERO Palm
• Premium margarine without palm oil
• Firmness: soft
• Optimum fermentation stability
• For melt-in-the-mouth croissants and all types of Danish pastry and exquisite puff pastries
• Vegan
Art.Nr.: 1413491 | 10kg (5 x 2kg)